On a soggy day in 1968 a small crowd gathered in the rural village of Winston, Missouri to survey a collection of old relics up for auction. Had someone snapped a picture that day, the lean young face of Wayne Wormsley would have been captured on film, a small, featureless oval behind a sea of other faces. He had stepped to the back of the crowd, stomping his feet and shimmying the rain off the arms of his slicker. His first item of business was to secure an inconspicuous position with a clear view of the drama that would play out when the bidding began. He pulled his open slicker together at the neck to ward off a chill in the air as he looked around for his cousin. They had lost each other in the mad dash from the car to the pavilion in an effort to outrun the steady rain that had been falling all morning. Standing there alone, Wayne assumed the role of Stranger in a Strange Land. It was Wayne's first auction, and really more his cousin's scene than his. Still, the spectacle of buying and selling promised a welcome diversion from the gloom of the day, so he stood and waited, and then snapped to attention when the auctioneer finally appeared on a riser before the crowd. Let the games begin.
Carved wooden objects and other items from the 1800s were on the program that day, and—somewhat to Wayne's surprise—he found that both the era and its artifacts appealed to him a great deal. Perhaps a more formative discovery for Wayne, however, was the psychology employed in the transactions between buyers and sellers. "People-watching" at auction, in fact, became a profitable past time for Wayne, yielding an education he would leverage throughout his life, particularly years later, when he himself became an antiques dealer. Early in that first auction in 1968 Wayne observed one wiley man single-handedly shape the game in his own favor by psyching out the crowd. His strategy was to purchase a few of the first items at any price, setting up the illusion that, to him, money was no object. Then, as other, more valuable items came up for bid, few competitors bothered to enter the fray. That man walked away with treasures at excellent prices. Other characters at that auction intrigued Wayne as well. He saw a woman buying RS (Reinhold Schlegelmilch) Prussia painted porcelain bowls for $35 a piece, which seemed an exorbitant price at the time. He discovered later, however, that those bowls held even greater value when sold in shops, and profit could be made in reselling them.
Wayne didn't buy anything at that first auction, but his attraction to nineteenth century goods had already begun to take hold, and soon other auctions would follow. The first antique he actually purchased was an old wooden hall tree with a lift-up seat and a beveled mirror. When he and his wife were first married and wanted to furnish their empty home, Wayne found he could get some lovely things at auction for modest prices. His career aspirations ultimately took him to Hallmark Cards in Kansas City, where he worked as a product planner for many years. But all the while he lived something of a double life, visiting auctions and spending up to $100 per month acquiring furnishings for their home, and then selling surplus inventory in occasional garage sales. It wasn't until 1983 that he officially entered the antiques business on a part-time basis, acquiring his tax ID number and doing local antiques shows. Now. long retired from Hallmark, Wayne has built a thriving second career as an antiques dealer—an occupation that requires Wayne to take buying trips several times a year. Home base, however, is Platte City, Missouri's W.D. Pickers Antique Mall, where Wayne has one of the most fascinating inventories of nineteenth century items to be found in this area.
W.D. Pickers (a.k.a. "Pickers") is one of those very special places where you can easily lose yourself in dreams and reverie as you walk the aisles and explore vast collections of hundred-year-old goods. I drive by Pickers nearly every day on my commute between Kansas City and St. Joseph, and the billboard marking the exit to it from north I-29 exerts a gravitational pull on my car that I must conscientiously resist in favor of business meetings and work obligations. I'd much rather spend my day at Pickers, though, and, over the years, I have spent a considerable amount of time there. I didn't know it until recently, but I've been Wayne's customer for a long time, and his beautiful antiques dot the landscape of my home: one of his framed needlepoint pictures hangs in a guest room; one of his exquisite plates serves as the backdrop for a little vignette I've arranged on a shelf in a bathroom. And then, of course, there are the cards. Without knowing it, Wayne has been one of my favorite sources for trade cards; the most prized cards in my collection came from his booth. The cards, as a matter of fact, are what ultimately brought us together.
On the last day of work before the Christmas holiday, I slipped away from the office a bit early and made a beeline to Pickers. I knew they were open until 6:00 p.m., so I would have at least a couple of hours to walk the store and see what was new. As it turned out, I was there nearly two hours, but I barely got past the very first booth I came to. Just steps inside the door I saw several plastic bins in which scores of antique post and trade cards were neatly filed by category: Soap; Cologne; Dry Goods and so on. It stopped me in my tracks. I dropped my purse to the floor and settled in. I was going to be there for a while.
It wasn't long before a distinguished gentleman came up to me to say hello and ask me if I was looking for something in particular. "Just pretty things," I said, my fingers still working the cards, scanning them one by one for colors and images that appealed to me. "Let me get you a seat," he said, and disappeared around a corner. He returned moments later with an old chair. I got comfortable and entered my Zone. Time either passed or stayed still (who could tell?) while I gradually made a little pile of cards I couldn't leave behind. The man checked back now and then to see how I was doing, and just as I had flipped the last card in the bin, he told me something that just couldn't possibly have been true: "You know, I have a lot more of this stuff." He turned and unlocked a glass case behind me where smalls and treasures of particular value were displayed. He pointed out a tidy little stack of near-perfect cards, including one I had never seen before: a pristine card with a Victorian woman on it that was perforated to form puzzle pieces. I stared at that card a long while. It was rare and beautiful and completely outside my price range. Oh, but it was pretty. "Well, and I have even more stuff down here," he said, leading the way toward the far wall, where thousands of old photos were packed in bins down a long table. He showed me more and then more again. I oohed and awed. He told me of his passion for things from the 1800s, and I marveled at the depth and breadth of his collection.
On impulse I dug deep in my purse for my business card. "My name is Jennifer Passariello," I began, and handed the card to him. "I write this little blog, and I'd love to do a profile on you. Would you be open to letting me interview you?"
"I'm Wayne," he said. "and sure, you can interview me."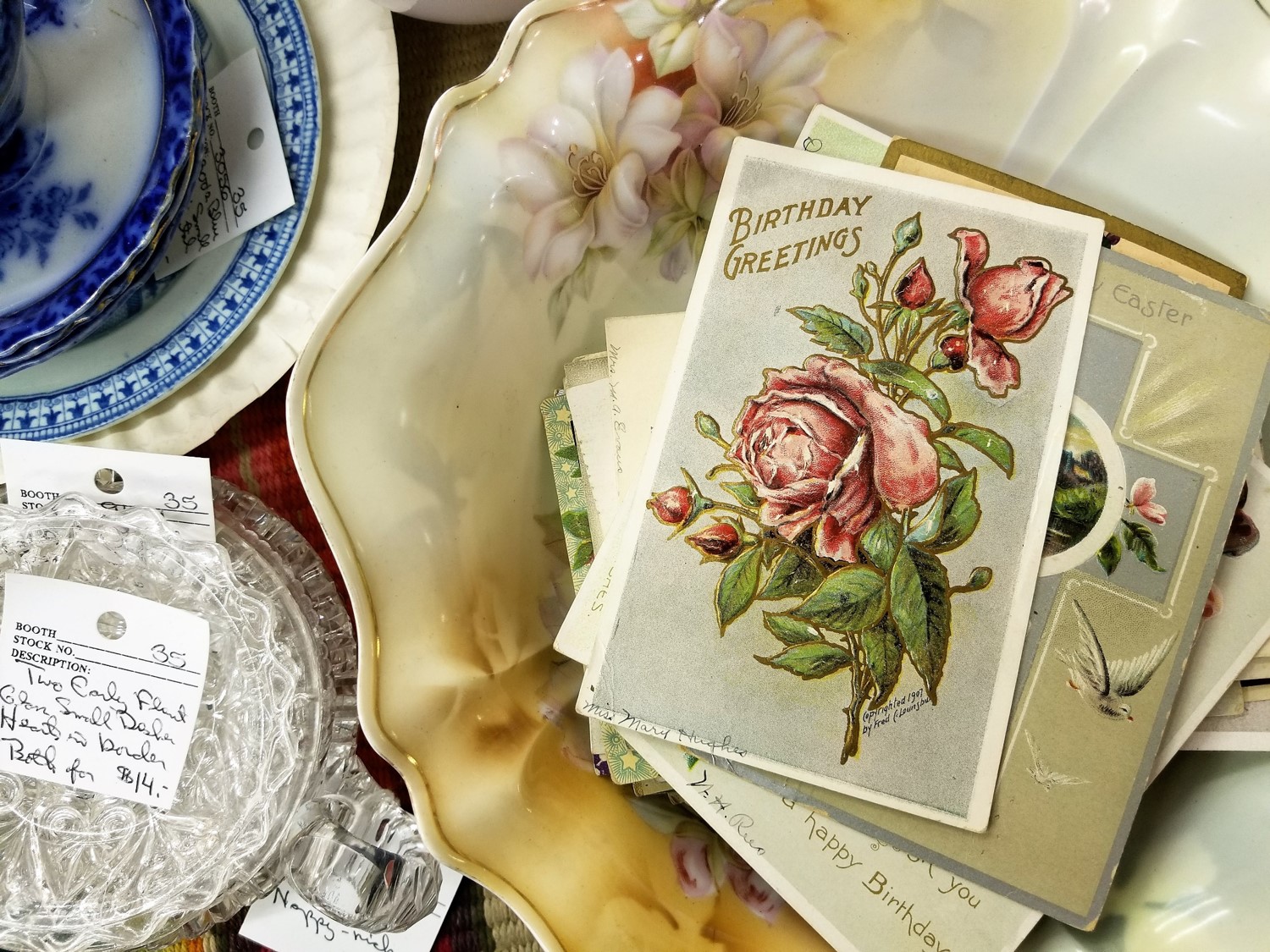 A small sampling of Wayne's cards. On a recent visit before the holidays I literally sat here for an hour and a half going through part of his collection item by item. Even so, I didn't get through them all! Could there possibly be a better way to spend an evening?
Wayne and I reconnected at Pickers a couple of weeks later on a bleak and blustery Monday morning. Our conversation was long and fascinating. What follows is an excerpt. He has nearly a lifetime of experience in antiques, so I wanted to learn more about the business side of that world.
Jennifer: I know you have a particular interest in the nineteenth century. But what shapes your buying decisions most: what you like, or what you think will sell?
Wayne: Both. When I go to an auction, I ask myself some questions. Is there anything interesting here? Are there items for sale here that I've had success with before? Do I think there is a number of people out there who are looking for this? Is the price reasonable?
Jennifer: 'Price' seems a very tricky part of this business.
Wayne: I refer to price guides, but those are only guides. I find that the guides are often priced too high. You have to balance that with experience.
Jennifer: What impact has eBay had on pricing? eBay prices always seem exceptionally high to me.
Wayne: eBay has been good for business because it exposes people to things they may not have known about or knew could be had. It generates interest. But it's also driven prices down. Things that once seemed rare are less so now, when you can search eBay and find sources all over the country. Naturally, rarity, or the perception of rarity, affects price.
Jennifer: I never thought about that, but it's true. When I'm looking for something very specific, I know my chances of finding it on eBay are better than in a shop. There's nothing, though, quite the same as shopping a brick and mortar antique shop—especially one like Pickers that sells bona fide antiques.
Wayne: Over the years I've heard dealers express concern about eBay as a threat to the business. But the way I look at it, the sellers on eBay—and other dealers, for that matter—have to buy their merchandise somewhere. I try to price my things reasonably so other dealers can buy them.
Jennifer: That's a good point. Incidentally, how do you define 'antique'?
Wayne: A hundred years old. Most of my things are from the 1800s. I do have some things from the early part of the twentieth century, but those things don't really appeal to me. The things that come from my era—the 1940s when I was a young boy—don't appeal to me at all.
Jennifer: Does your wife share your interest in antiques?
Wayne: She likes to decorate with antiques. She doesn't go on buying trips with me, but when I see things at auction I know she'd like, I'll pick them up. For example, I bought an old [needlepoint] sampler at an auction yesterday in Salina, Kansas. My wife has acquired several of these samplers. We have some other collections, too, such as a pretty sizable collection of old toys that are on display in our living room. But when my wife hasn't used something for a while, she'll say, why don't you try to sell it.
Jennifer: Is there anything you wouldn't want to part with?
Wayne: No. (Laughing) Everything's for sale.
Jennifer: A question I tend to get from people shopping for antiques is whether it's OK to negotiate with a dealer for a lower price. How does this work?
Wayne: Every dealer does this differently. If they've priced an item over a particular price point, if you ask, you can get 10% off if you pay by cash or check at Pickers. If you pay with a credit card, the dealer is charged a fee, so a cash sale offers more room for negotiation. Most dealers don't mind people making an offer. It's all in the way the offer is made. If they have a bad attitude, or if they make an unreasonable offer, that's what dealers don't like. If the customer is nice and makes an honest and fair offer, dealers don't usually mind. What the dealer has to take into consideration is overhead and the expense that has already gone into the item. Pickers also has a sale three times a year that most dealers participate in. Discounts range from 10% to 20% off.
Jennifer: Where do you source your antiques?
Wayne: Markets and auctions around the country. Because I specialize in things from the 1800s, I like to go to markets in the east part of the country. That's where the most people lived prior to 1900.
Jennifer: Markets such as Brimfield?
Wayne: Yes, Brimfield is one. I go there every year.
Jennifer: (Squealing) I'm dying to go there.
Wayne: Brimfield advertises 5,000 dealers over a period of a week. You can see a lot of good or moderately good stuff there. But there's also stuff there I don't like, like industrial stuff. But there are antique malls there, too. On my way back home I'll make a stop in Adamstown, Pennsylvania, where there are several antique malls in town as well as two outdoor markets on Sunday mornings. Well, and I do several shows in Illinois. Antiquing is a relationships business, and you have to cultivate relationships with other dealers and customers. In that way, antiques is just like any business, really.
Jennifer: What advice would you offer to someone interested in getting into the business?
Wayne: You have to love antiques. You can't just look at them as a commodity. I know a dealer in Pennsylvania who's been really successful. His son wanted to make money like his dad, and gave the business a try. It didn't work out, though. The dealer said that his son just didn't have an eye for it, nor did he have a genuine love for it. You have to love it, because it takes a lot of effort, time, and money to do it right.
Jennifer: What else?
Wayne: You really need to have a second income. It's difficult to make a profit. Just finding the merchandise is a time-consuming and expensive proposition. You have to drive to auctions, which sometimes includes stays at hotels, and then there are other expenses. Then, of course, you have to pay rent and fees at shows or at malls. There's a lot that goes into it.
Jennifer: You have so many fantastic things in your collection. How often do you add new things to your inventory?
Wayne: Every week. Almost every day I work here at Pickers, I bring in something new.
Jennifer: Ah, I wish I didn't know that. I could end up spending all of my retirement money in here.
Wayne: (Laughing) That's OK! We wouldn't mind that at all.
***
I took a lot of pictures (127, to be exact) of Wayne's booths at Pickers. Here are some of my favorites…
I recently saw new game boards at a big box store that had been artificially distressed to look old. There's nothing like the real thing, though.
Another old mirror.
When I made that stop at Pickers before Christmas on my way home from work, I couldn't have predicted that I was stepping out of my car and into the biography of an antiques dealer who built a fascinating life out of the hobby I love. I couldn't have known that when Wayne brought me a chair and I plopped myself in front of his cards that a chain reaction had started that would ultimately lead me to write my favorite blog post to date.
Life is funny, isn't it? My stop at Pickers came at a time when I was thinking about drawing Circa 19xx to a close. A blog is an enormous amount of work, and my audience is small, when compared to bigger, flashier virtual spaces out on the web. My day job also demands the lion's share of my time. But in typing this post I've remembered that writing is just something I have to do. I have to; that's just the way it is. And my writing has to go somewhere; it might as well go here, in this little place. So readers and subscribers, thanks for your continued support. It really does mean more than you know.
Thanks also to Wayne, for just being awesome. I thoroughly enjoyed our visit. Please do visit W.D. Pickers when you're in the area. You'll be happy you did.
Until next time…